Having a hard time finding just the right gift for the traveler in your life? We've pulled together twenty-two amazing gift ideas for travelers to help make the imagining, planning, and executing of your favorite traveler's journeys more comfortable, convenient, and fun.

This may contain affiliate links, which give us a small commission if you make a purchase. There is no additional cost to you in using them. We are grateful for the support we receive through your use of these links, which allows us to keep creating quality videos and posts to share with you. Thank you!
---
This is one of the most awesome and fun gift ideas for that special someone in your life! It comes with a scratch-off keepsake book containing fifty challenge adventures AND a Lomo instant camera, to capture the moment you completed each challenge.
Books are an awesome way to inspire trips. And Taschen makes some of the most visually inspiring books we've seen. There are plenty to choose from in a variety of price points, but this one's our fave.
Andie swears by ALWAYS keeping a large, lightweight scarf in her carry on. Planes can be cold, we may end up somewhere she needs to cover her shoulders or head, and it can even double as a beach wrap in a pinch! It might be the most versatile thing she carries. Keep the traveling lady in your life cozy with this scarf that doubles as a shawl.
The drawback to frequent travel is that it often comes along with frequent dining out and disposable takeout waste. Help reduce your favorite traveler's footprint with a stylish reusable cutlery set! 100% recyclable and 100% BPA-free means this set is great for the environment. It includes a straw, fork, knife, spoon, chopsticks and carrying pouch, and it's portable and compact. (warning: it may not be allowed in carry-ons)
Hate buying single-use travel size toiletry products over and over? Same. We've all seen the reusable containers that you can fill with your own products from home, but take it a step further and help them save space too with these flat bottles.
We all need our devices, and everyone needs to recharge at some point. This one's self explanatory, and one of the most practical gift ideas for travelers.
These are the headphones of travelers' dreams. They fold into themselves pretty impressively, making them easy to pack. They're lightweight and comfortable for prolonged listening, and noise-cancellation helps block out external noise, which is essential on airplanes.
These handmade vegan cork leather passport covers are eco-friendly, practical, and stylish. Monogrammed with an initial of your choice, what jet-setter wouldn't love a custom gift like this?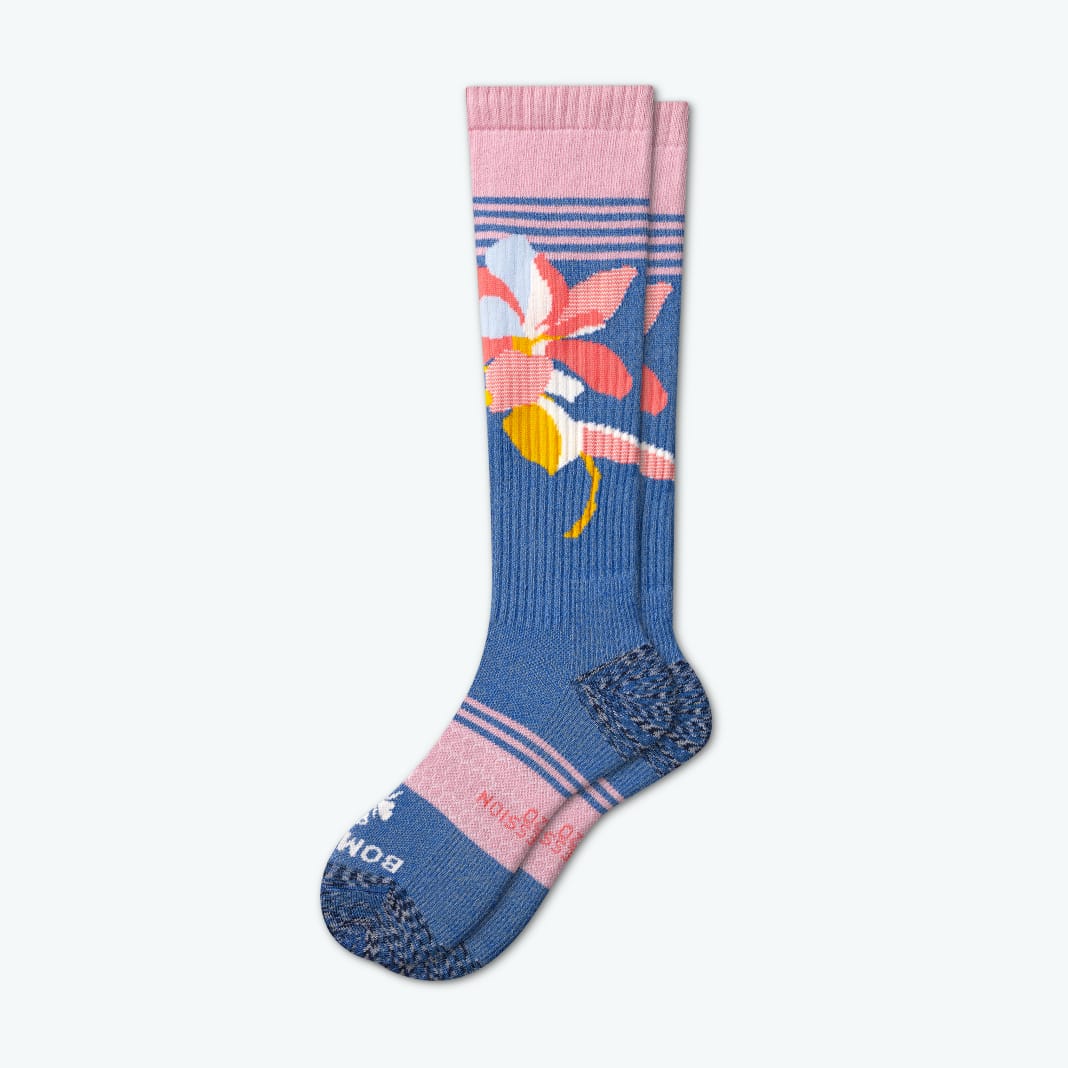 Long flights and long days on your feet exploring new places can really take their toll. Compression socks REALLY help with lower-body circulation, and investing in a good pair for yourself or a loved one is money well spent. And have you seen cuter socks than these?
Packing cubes are great gift ideas for travelers! They help organize, declutter, and save space in their luggage. These are expandable, compressible, and waterproof, too!
For your backpacking, camping, or adventure traveler. Compact, super-absorbent, and quick-drying, these really come in handy.
Make sure they never get charged for accidentally carrying overweight bags again. This one makes a great stocking stuffer!
And if their luggage is still overweight at the check in counter, they'll be stoked they packed this Patagonia Ultralight Black Hole Duffel Bag in their suitcase as a breakaway bag to carry on.
One of our favorite gift ideas! For planning future trips and journaling as you travel. We live by our Planners and highly recommend them! They come in a variety of cool colors, dated or undated, and daily, weekly or monthly. Looking for more help planning a trip? Check our post on just that here!
One of the best parts of traveling is partaking in the local food and drink, right? Try The World curates an incredible sampling of gourmet foods, snacks, and drinks from around the world, and you can enjoy them all in the comfort of your own home (when you're not traveling).
For the slow-traveler, or anyone spending time in one place long enough, this wireless mini bluetooth speaker will crank things up in their Airbnb or hotel.
We try to reduce waste whenever possible, and by carrying our own refillable water bottles with built-in filters, we can avoid having to purchase plastic bottles as we travel. Brita is a trusted name in water filtration and these come in 2 sizes and several fun colors!
These monogrammed cork luggage tags are both unique and conscientious. Laser-engraved in black, there is a variety of monograms to choose from.
This is perhaps a bit of a random item, but Stephen's got a thing for hammocks and insisted we include it. In all seriousness, it's pretty handy to have your bed with you at all times, no matter where you might end up for the night.
Unlike most bulbous travel pillows, this packs almost flat and attaches to the outside of your luggage. It wraps around your neck like a scarf, has flexible internal support, and is machine washable. We never leave home for a trip without ours!
We're some pretty serious coffee heads, and this one makes us downright giddy. Manually operated, there is no battery or electricity required. Perfect for when you're on-the-go, but desperately need that boost. We feel ya!
22. D.I.Y. Trans-Oceanic Survival Kit
Flights are known for being brutal on skin and one's hydration levels. Why not put together a DIY trans-oceanic survival kit for your favorite traveler? They'll love the extra thought that went into it. Some of Andie's flight must-haves include:
BONUS GIFT IDEA!
Surprise your friend or loved one with an Airbnb experience! For those like us that prefer to give and receive experiences rather than material goods. Purchase as Airbnb online experience, or if you've got a trip planned together you can purchase an experience for the destination you're traveling to. There's also the option of an Airbnb gift card, should you want to play it more safe. If you're new to Airbnb, you can join using our link to receive up to $65 on a qualifying booking!
That about wraps it up (gift-pun intended) for our list of best gift ideas for travelers. We do use quite a few of these products ourselves and we hope our suggestions gave you some great ideas, or maybe we helped stoke your imagination with some ideas of your own. If so, we would LOVE to hear what you came up with, so drop us a line and we'll update this post and give you a shoutout!
Lastly, if you're looking for gift ideas for the artist or creator in your life, we got you!